HOUSTON – January 22, 2015 – NewQuest Investment Company announces the opening of the newest Planet Fitness at Paulding Commons, a 210,000 square foot shopping center located in Hiram, Georgia. Paulding Commons is located in the heart of Hiram's retail corridor at the main intersection of Jimmy Lee Smith Parkway and State Road 92/Hiram Acworth Highway.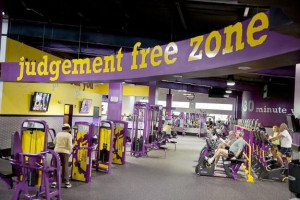 Planet Fitness opened the 20,000 square foot facility with a flourish during the first week of January with over a thousand new members joining in a post-holiday rush to begin their New Year's resolutions. Offering a unique concept in fitness facilities, Planet Fitness offers an environment where members are encouraged to pursue their fitness goals by taking advantage of unlimited training programs, or going at their own pace without ever worrying about being judged.
"This is a great location for us," responded Toby Hines, one of the club owners, "we couldn't be happier. The response from the community has been phenomenal." He added that this was the best looking club they had opened in the area, and that over 4,000 members had joined in the first 17 days since opening. Ultimately, the club is projected to support 7,500 to 8,000 members.
Planet Fitness joins Academy Sports and the recently completed Hobby Lobby as anchors to Paulding Commons which now supports a strong mix of food, retail and service oriented tenants. Over 53,000 cars travel daily through the intersection, with over 76,500 consumers with an average household income of almost $71,000 residing within 5 miles of the shopping center.
NewQuest Investment Company, in conjunction with institutional partners, seeks value-add grocery-anchored and power center retail in the top 60 markets, select college towns and resort communities.
About NewQuest Investment Company
NewQuest Investment Company ("NQIC") is the institutional investment arm of NewQuest Properties, a $1.5 billion, multi-faceted real estate development, leasing and management company. NQIC acquires value-add, grocery-anchored retail in select primary and secondary markets across the United States, targeting leveraged returns in the 15 -18% range.
The NQIC team leverages its more than 50 years of multi-disciplined experience in the retail and real estate industry with a broad national network of contacts to successfully implement this strategy. At year-end 2014, the investment portfolio was comprised of 12 grocer anchored and power centers in 9 states, totaling 2.1 million square with over $320 million in value.
About Planet Fitness
Founded in 1992 in Dover, N.H., Planet Fitness is now the fastest-growing full size health club franchise in the United States, and has revolutionized the industry with a combination of extremely low prices and a unique, friendly, and hassle-free environment called the Judgment Free Zone®.
Planet Fitness has over 850 locations nationwide. The company prides itself on giving people an unbeatable value, top-notch facilities, and an atmosphere that focuses on the needs of occasional or first-time gym users rather than hard-core fitness fanatics. All Planet Fitness clubs feature a wide selection of brand-name cardio and strength equipment, and provide unlimited fitness instruction with all memberships.
Planet Fitness is a national brand partner of NBC's The Biggest Loser®. For more information, visit www.PlanetFitness.com.